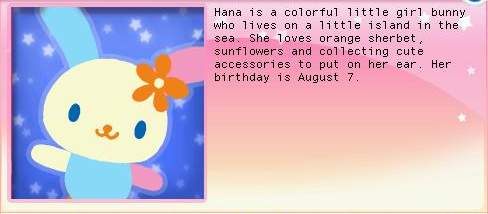 Usahana is a bunny-girl and can be found in front of a house to the left of the lake in Sanrio Harbour in HKO. She will ask you to do some favors of course (who doesn't on Sanrio Land?).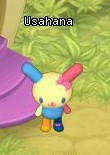 U*SA*HA*NA 's real name is Hanachan - she is described as a very nice and sprightly little girl-bunny who loves the summer season. She likes to show her "happy dance" and has cute blue eyes. She was born on August 7th and normally lives with her supportive grandmother on a little island in the sea.

Hanachan loves orange sherbet more than carrots and she has a sweet happy smile. She normally wears a flower on her head, but can also wear different hair clips like a butterfly maybe. In the anime "Usahaha Yumemiru Ballerina" she dreams of becoming a ballerina.

U*sa*ha*na was deviced in 2001 by Sanrio.
Community content is available under
CC-BY-SA
unless otherwise noted.